Pest Control In Garland, Texas
Garland is a thriving and vibrant place that is attractive to many young people. As Garland grows, local businesses flourish, providing residents and visitors shopping and food experiences. This popular area is a great place, but there is one thing that can threaten daily life, pests. Pests can cause problems like spreading diseases and parasites, damaging property, and creating other health concerns.To keep you, your family, or your business safe, look to Addison Pest Control of Texas. Our team of experts provides reliable Dallas County Pest Control that is unmatched.
Residential Pest Control In Garland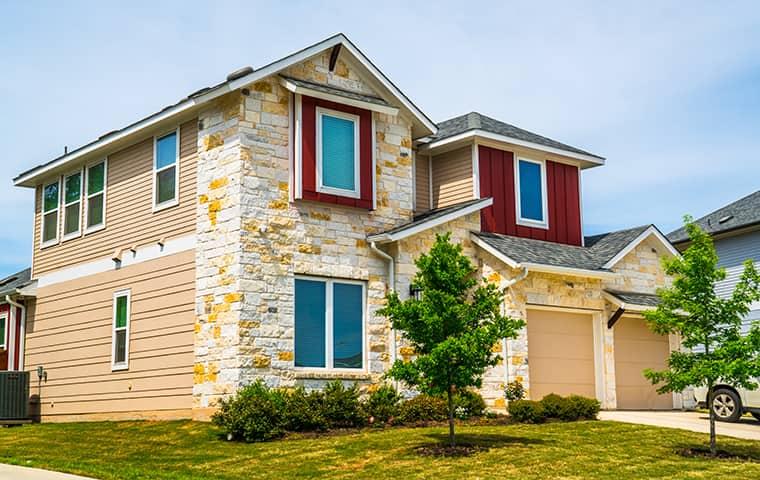 No two homes are alike, and neither are the pest problems they face, so having pest control options is essential. When a company only offers one kind of plan, it may be one that you don't need or can't afford. With Addison Pest Control of Texas, we have three different residential programs to provide you with the right level of pest control. These plans are:
Advantage Plus+: A quarterly service plan covering 16 common area pests includes rodent monitoring.

Advantage Total: Includes everything the Advantage Plus+ program does and three more stubborn pests, argentine ants, odorous house ants, and subterranean termites.

Advantage Gold: Includes everything the Advantage Total program does but also has the additional benefit of seasonal treatments April through September for mosquitoes and fire ants.
These three plans come with our pest-free guarantee, so we will re-treat at no additional cost between scheduled visits if pests return. Contact us at Addison Pest Control of Texas to learn more about our residential pest control options and get help figuring out which plan is best for you.
Commercial Pest Control In Garland
Running a business takes a lot of time and effort with the many hats you must wear. No one should have to add more to their long list of responsibilities because their property has annoying pests. But the unfortunate truth is pests are never going to go away, and they can threaten a business's entire operations and the people that work and use their services. Because of this, pest control is necessary for all commercial properties in Garland.
To assist all commercial facilities in the area, Addison Pest Control of Texas offers many different pest control options to meet all needs. We customize our treatment plans based on your facility's pest pressures, which we determine by a free and detailed inspection, providing you an estimate before we get started.
Our general pest control provides treatment for 16+ pests and specialty services for the more challenging pests like rodents, termites, wildlife, pigeons, bed bugs, and more. With a year-round plan and our pest-free guarantee, you can keep yourself, your employees, customers, and your business as a whole protected from dangerous critters.
Call us at Addison Pest Control of Texas to learn more about our commercial pest control offerings.
Three Ways To Protect Your Garland Property From Termites
Are you worried about termites on your Garland property? It is easy to feel powerless against these wood-destroying pests, but there are three things you can do to protect your home:
Address moisture issues in your home, such as leaks, poor ventilation, and excess humidity. You can use dehumidifiers in areas like the basement, garage, and bathrooms where moisture tends to build up. Also, ensure you replace or remove any water-damaged wood on your property.

Inspect the exterior of your home for cracks and crevices that can provide entry points for termites. Usually, termites enter a house on ground level, especially where wood is touching soil, so you can use crushed rocks to create a barrier between your hone's foundation and soil.

Work with professionals for ongoing protection through annual termite inspections.
At Addison Pest Control Of Texas, we use a certified Sentricon® with Always Active™ termite bait stations to help deter termites from wood in your home. Give us a call to learn more about all our termite control offerings!
The Truth About Spiders In Garland
Spiders are one of the most common pests in Garland, but many people don't know much about these eight-legged critters. Many don't understand why they have spiders in their home, making it impossible to keep them away effectively.
The truth about spiders is that they usually infest homes because there are plenty of prey pests for them to feed. So if you are experiencing spiders in your home, there are likely other pests you aren't aware of that are causing problems.
Addison Pest Control of Texas knows how to handle spiders and the prey pests that attract them, so contact us for assistance with keeping your home a healthy and pest-free environment.
Common Wildlife Found In Garland
If you've ever found wildlife on your Garland property, you're in good company! Wild animals are a common problem for property owners in this area; plenty of different animals will try to stop by.
Let's look at the most common types of wildlife you're likely to run into in Garland:
Armadillos
Bats
Birds
Ducks
Feral Cats
Opossums
Raccoons
Skunks
Snakes
Squirrels
Wild Hogs
Addison Pest can tackle the problem no matter what type of wildlife calls your property home. We'll address the issue and provide you with the safe and effective services you deserve. Don't try to tackle potentially dangerous wildlife on your own. Leave the work to our professionals so you won't have to worry about a thing. We're here to help, so don't hesitate to call and schedule your appointment for wildlife control in Garland today.
Are Mosquitoes In Garland Dangerous?
If mosquitoes seem to be everywhere on your Garland property, you may have more than an annoying problem on your hands. Mosquito populations that get out of control are more likely to cause bites. Unfortunately, mosquitoes can transmit pathogens through their bites. While it's important to note that not every mosquito carries a disease, there always is the potential for transmission.
Mosquitoes can transmit the following diseases:
West Nile Virus
Dengue
Chikungunya
Encephalitis
Tularemia
Even when no major health concern is involved, getting bitten by a mosquito is annoying. There's no reason to let these nuisance pests take over your property. Our pros will help restore the balance and give you back control.
If you need to drastically reduce the mosquito population on your property, our professionals are the ones to call. At Addison Pest, we proudly offer the most trusted services for mosquito control in Garland. Reach out to our team of experts to schedule your appointment today.
How Bed Bugs Get Inside Garland Homes
If you've ever dealt with a bed bug infestation, you probably never want to see another one of these parasitic pests again! Bed bugs are notoriously difficult to get rid of. The only reasonable course of action is to call for professional bed bug control in Garland just as soon as you notice a problem with them.
So, how exactly do bed bugs get into a home in the first place? These hitchhiking pests love latching onto your belongings and getting a lift home with you. They usually make their move in public places. Keep an eye out for them in hotel rooms and while using public transportation.
Once our professionals at Addison Pest rid your property of the bed bug infestation, go into preventative mode and keep the following tips in mind so you won't bring them home again. These recommendations touch on the key ways bed bugs get into homes in the first place; use them to stop future infestations before they can start:
Inspect hotel rooms when traveling.
Don't put luggage or belongings on the floor of hotel rooms or while using public transportation.
Inspect secondhand furniture and items before bringing them home with you.
Wash and dry all clothes in high heat settings after you return from a trip.
Vacuum your suitcase after travel.
With these simple strategies, you can stop bed bugs from returning to your property and generating an infestation all over again. If they do happen to sneak back in, call our professionals right away for the bed bug treatment your property needs.
What's Attracting Fleas To My Garland Home?
Pets have some sworn enemies—ticks, worms, and, of course, fleas. If you're dealing with ticks on your property, there's probably something about your home that has attracted them there in the first place, like your pets. Let's look at factors that could attract fleas to your Garland home so you can address as many as possible and bring fewer fleas around.
Pets are one of the most common factors that attract fleas to a property. It's important to regularly bathe and groom your pets to help them avoid flea problems. Keeping dogs leashed while spending time outdoors can also help prevent flea infestations. Also, keeping pets on year-round flea medications is almost always recommended.
There are other actions you can take. Vacuuming frequently and washing your bedding on a regular basis can make an impact on whether fleas find your property appealing. Maintaining your lawn on a routine basis can also help eliminate a path to the interior of your property.
Last but not least, rodent or wildlife populations could be bringing fleas to your property. If there's another pest problem on the premises, our professionals can handle it for you.
For flea control in Garland and any other pest control service your property requires. Call Addison Pest to schedule your appointment with our local experts today.
Request Your Free Inspection
Complete the form below to schedule your no obligation inspection.