Reliable Pest Control In Allen, TX
Regarded as one of the best places to live in all of Texas, the city of Allen is a suburban paradise for those who seek one. With easy access to the greater Dallas area, many nature preserves and parks, good public schools, and access to a wide array of local and national businesses, the quality of life in Allen is considered quite high. Pest problems, however, can present themselves at any point during the year, but fear not, there's a solution.
At Addison Pest Control, we've been providing Collin County pest control for more than three decades. As a locally-owned, locally-operated business, we take the needs of our community to heart, which is why we put thought and care into every interaction we have with our customers. Whether it's providing the highest quality treatments or helpful customer support, we want your experience with us to be unlike any other. For more information on our pest control programs, contact us today.
Residential Pest Control In Allen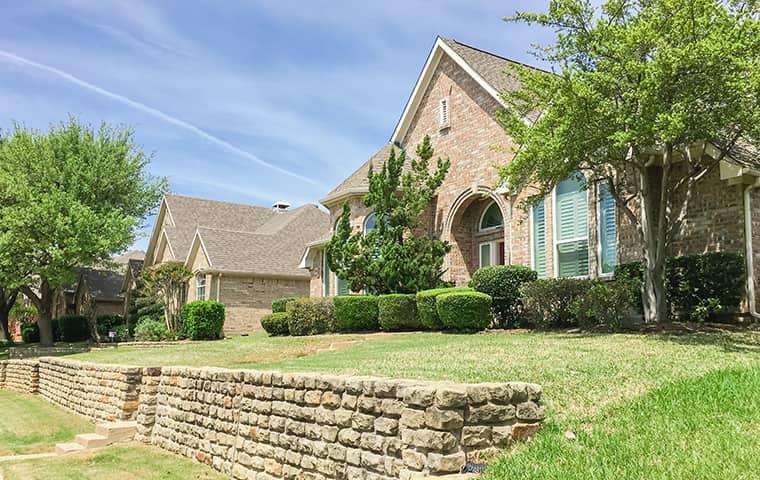 When it comes to keeping the homes of Allen free from pests, the team at Addison Pest Control will stop at no end to ensure that this is the case. As a family-owned business, we take residential pest control seriously by providing homeowners with effective products, fairly priced services, and reliable customer support. While we gladly offer one-time services, we also provide homeowners with recurring plans in order to maximize coverage and savings. Those programs are:
Advantage Plus+: To get started with pest control, this quarterly plan provides coverage from pests like carpenter ants, ants, mice, crickets, and more.
Advantage Total: For the homeowner looking for increased coverage, this plan also provides treatments for Argentine ants, subterranean termites, and odorous house ants.
Advantage Gold: Our most comprehensive offering has the added benefit of seasonal protection from both mosquitoes and fire ants.
For a solution to all of your pest problems, contact Addison Pest Control today.
Commercial Pest Control In Allen
At Addison Pest Control, we are dedicated to bringing Allen businesses the most reliable commercial pest control around. We customize every treatment plan that we implement in order to keep your business pest-free throughout the year. With detailed inspections, honest conversations, and a team of professional technicians, we're able to make this your reality. Whether you're looking to target wildlife, rodents, termites, or common pests like ants and spiders, we have the solutions to meet your needs. No matter what services you require, they all come with a 100% satisfaction guarantee and customer support that you will always find helpful. To learn more about protecting your business from pests, contact us today.
Five Easy Ways To Get Rid Of Ants In Allen
When ants invade an Allen property, it can seem like there's an endless trail of invaders. In order to prevent these issues, try the following tips:
Fix all leaks when they occur. These might be found in places like faucets, pipes, downspouts, roofs, and even toilets and showerheads.
Be diligent with food. Ants seek sweet foods so dispose of fruit if it's overly ripe and be sure to keep leftovers in secure containers.
Tend to food residue. Because ants aren't picky, they will make a meal out of almost anything. Always clean up spills, vacuum crumbs, do the dishes when they're dirty, and take out the trash when it's full or contains sweet food items.
Secure all openings. Check your home for cracks or gaps where ants might be entering and seal them up with materials such as silicone-based caulk.
Contact the pros. The most reliable way to keep ants out of the home is with help from a trusted pest professional.
Ants don't have to be a part of daily life, which is why at Addison Pest Control, we include ant control in all of our residential offerings. We work around the clock to keep these pests from becoming an issue and use thorough methods to create a barrier from them. To learn more about avoiding ants, contact us today.
Tips To Avoid Bed Bugs In Allen Homes
Bed bugs are one of the most pervasive parasites for Allen residents, but you cant take steps to avoid them. In order to avoid an outbreak, try these tips:
Inspect all used couches, mattresses, chairs, and other upholstered items thoroughly before bringing them home. If possible, ask about their previous whereabouts as well.
After going to the movies, taking public transportation, or staying in a hotel, check all personal belongings for bed bug activity.
Vacuum your home regularly, paying special attention to places where pets sleep, carpets, and rugs.
Use a light-colored mattress protector.
Seal up all cracks and crevices around your home's foundation. For individuals who live in apartment buildings, door sweeps may prove helpful.
At Addison Pest Control, we look to restore the security of our customers' homes with bed bug removal services that are guaranteed. We begin every treatment plan with a meticulous inspection of your home, tending to even the most hard-to-reach areas. From there, we combined methods of heat treatments and liquid applications in order to address live bed bugs, eggs, and larvae. All of our bed bug control treatments come with a one-year warranty so they never have to be a problem again. For more information on these services, contact us today.
How To Tell If Your Allen Home Has A Termite Problem
One of the risks of being a homeowner is dealing with unwanted termites. These bugs will silently destroy the inner structure of your home, excavate walls, warp floors, and leave a pile of sawdust in their wake. It's critical to have an annual termite inspection to check for hidden nests. Termite season isn't the only time that termites are active, and problems can continue for years.
Addison Pest Control provides residential pest control treatments to thwart termites and target where they hide in your property. Decks, garages, sheds, and structural elements can all fall victim to the voracious appetite of termites.
Homeowners should get familiar with clear signs they have a termite problem. If the following are present, contact Addison Pest Control for an inspection and termite treatment services:
You find pin-sized holes visible in drywall, and walls sound hollow or emit faint rustling sounds.
You notice discarded termite wings, swarming termites, or piles of frass.
Your flooring is warping, or the floorboards are loose when walking across their surface.
It's harder to open windows and doors because of termite damage.
Tubes on your home's exterior lead from the soil to the structure.
Termite-related damages cost homeowners dearly every year. When these insects eat away at your home undetected, it's devastating.
Contact Addison Pest Control to check for termites and apply an effective treatment to eliminate them from the premises.
Is It Dangerous To Have Spiders In My Allen House?
Thankfully, many house spiders are harmless. However, some venomous spiders may wander onto your property for food, moisture, or a safe, dark hiding spot. Once inside your home, these arachnids spin intricate webs and leave egg sacs in odd places. Find ways to exclude spiders and contact pest control services for help.
Addison Pest Control is ready to deliver effective pest control treatments that eliminate pesky spiders. When these bugs don't disappear, your home feels more like a horror film than a sanctuary. Because of how spiders enter your home, they may track in bacteria or make your home look unkempt.
The black widow and brown recluse are among Allen's more harmful spider species. However, wolf spiders and jumping spiders pose no serious threat to people.
If spiders are frequently a problem, consider signing up for the Advantage Plus or Advantage Total service packages. They both include pest control treatments to knock out spiders and other pesky bugs.
Because most spiders will go out of their way to avoid interactions with people, a few in the basement or a dark corner are not too much trouble. However, keep a clean home, remove cobwebs, and improve lighting to deter spiders from sticking around your property.
If you're not sure if the spiders in your home are friends or foes or are constantly running into webs and egg sacs, get help. Call the friendly professionals at Addison Pest Control for the best spider control solutions.
Why You Can't Get Rid Of Cockroaches On Your Own In Allen
When cockroaches find their way into your home, sneaking through sewers and plumbing or searching for garbage and food, it's a health hazard. These nasty bugs will hide under refrigerators, in dark cabinets, and slink into narrow crevices and cracks.
Inside your home, these insects rapidly multiply, litter surfaces with droppings, and contaminate food. Even worse, these pests spread bacteria and allergens that cause respiratory illnesses, rashes, and other ailments.
Addison Pest Control knows that a roach infestation is bad news for homeowners. These bugs are unsavory, feed on everything, and are hard to remove.
It only takes a few pregnant roaches to breed numerous offspring in under a year. The professional roach control products that Addison Pest Control uses target bugs where they enter, breed, and look for safe harbor.
Forget about relying on spraying essential oils or putting down boric acid. When an infestation of roaches rages out of control, you need the most effective, long-lasting solutions.
Contact Addison Pest Control for a home pest control treatment to kick these bugs to the curb.
The Most Effective Wildlife Control For Your Allen Property
When you live in Allen, you might have a visit from occasional animal invaders. Typically, most wildlife will avoid interactions with people. However, animals that want to escape the cold, avoid predators, or need a safe place to rear their offspring will risk entering your home. Removing wildlife on your own is risky because they become aggressive and cause can cause injuries.
Addison Pest Control knows the dangers that occasional invading wild animals pose. Unfortunately, critters may accidentally bring bacteria or parasites into your property, which could cause illness. When you have wildlife on your premises, you need professional pest control services to trap and remove critters.
Squirrels or opossums might destroy items for nesting materials. Pigeons might ruin the structural integrity of your home because of their urine and droppings. Invading wildlife can also disturb sleepers at night.
Avoid trying to coax wildlife to leave and let the pros step in to diffuse a pest problem. Contact Addison Pest Control when wildlife invades your home for a safe resolution.
Request Your Free Inspection
Complete the form below to schedule your no obligation inspection.